Thank You 2017 Volunteers!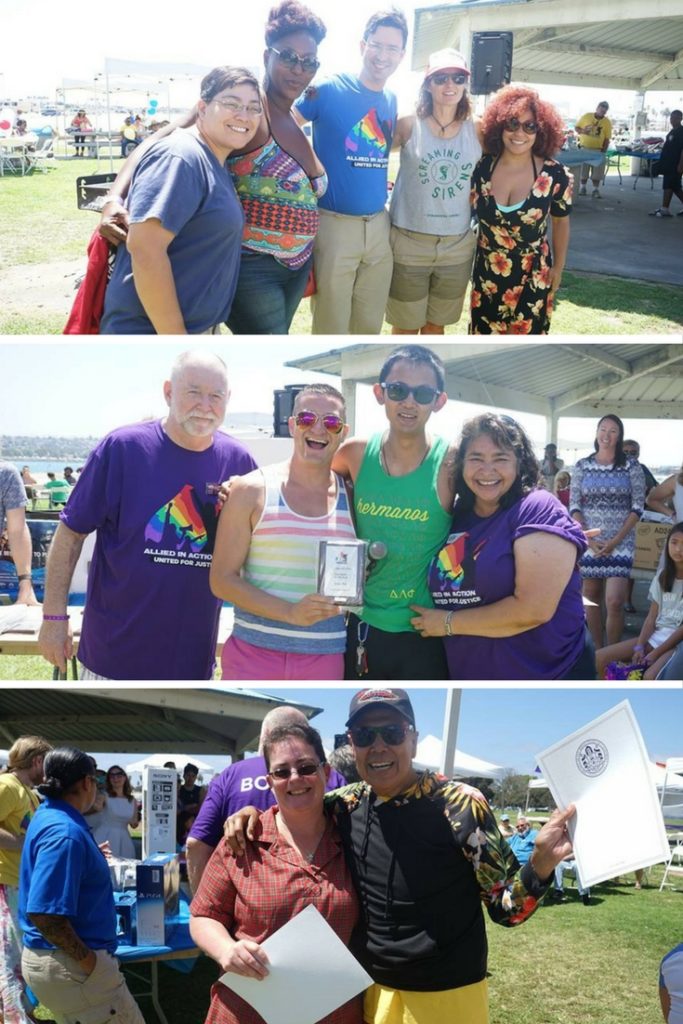 This year's San Diego Pride was one for the record books!  The 2017 Pride Parade broke attendance (230,000 spectators) and contingent records (246) and the two-day Music Festival drew upwards of 40,000 people. 
San Diego Pride has much to be thankful for and at the top of the list are the more than 750 volunteers who shared their efforts, love and time to make San Diego Pride such a success.
It is in that spirit of appreciation and celebration that San Diego Pride recognized the following as 2017 San Diego Pride Volunteers of the Year.
            Lois Aaron, Accessibility Co-Manager
            Bryant Daugherty, Graphic Design, Marketing & Communications
            David Decker, Festival Beverage Garden, Parade and Youth Lunch Bunch
            Jim Elliott, Entertainment Artist Hospitality and Pride 365
            Melissa Harrington, Sponsor Liaison
            Edward & Rieko, Lyell, Medical
            Mark Maddox, Festival, Parade and Pride 365
            Frankie Martinez, Entertainment Artist Liaison
            Sam Palma, Youth Group and Lunch Bunch
            Cristy Pastelin, Festival VIP Beverage Garden
            Tanya Raz, Community Partner Coordinator
            Derek Snyder, Festival Beverage Garden and Parade
            Brian Thai, Marketing & Communication
Our 2017 Volunteers of the Year made a significant impact on Pride, volunteering more than 1500 hours in all facets of the Pride weekend.
View the Volunteer Appreciation Picnic Album Here!
Some of our Volunteers have been with San Diego Pride for 10, 15 and 20 years.  For others, this was their first year. But no matter how many years of volunteering with San Diego Pride our volunteers all share the same story:
"I love supporting San Diego Pride, something I care so much about." 
"I want to help make a difference and San Diego Pride allows me the opportunity to make a difference." 
"Volunteering with San Diego Pride has afforded me the opportunity to learn new skills and improve myself." 
"I'm able to share my knowledge, skills and experience and help San Diego Pride." 
"I love making new friends and at San Diego Pride I've made a significant number of new friends.  These are the kind of friends that are worth meeting and keeping."
"I love the experience of Pride, whether it's seeing someone come to Pride for the first time or year after year, I love the feeling it brings and helping to make that happen."
"Volunteering at Pride is important because Pride is making a difference in our community."
"By volunteering my time to San Diego Pride, I feel as though I am making difference in the San Diego LGBT community, making San Diego and the world a better place to live and having an impact on our youth."
San Diego Pride is truly blessed with fabulous, fantastic, marvelous volunteers and we are so thankful for their efforts on behalf of Pride.