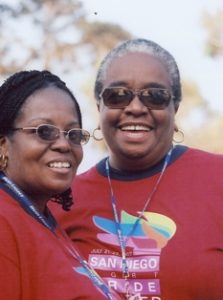 Vertez Burks joined the Pride committee in 1990 after being encouraged to do so by Christine Kehoe. Vertez's response was "Are you crazy? I can't do that," but Kehoe wouldn't take no for an answer and Vertez soon found herself serving on the committee of San Diego Pride and eventually heading up the organization together with Larry Baza.
One reason she was nervous about joining the committee was because she wasn't out to the people she worked with. It turned out to be a non-issue, but she was nervous about coming out of the closet to her co-workers. She once told an interviewer that in some ways it was more difficult than being African-American, because anyone can look at her and know that she is black, but she had to tell people that she was a lesbian.
One of the things Vertez is proud of was the name of the organization. She joined after the success of the 15/20 committee the previous year encouraged the committee members to make the organization permanent. One of the first orders of business was to come up with a new name for the committee. The Pride organization of the 1980s was called Lambda Pride but by 1990 the committee wanted to choose a more "out" name.
They chose to call the organization San Diego Lesbian and Gay Pride. They were taking a risk. Lambda Pride was a relatively safe and neutral name, but it was possible that people wouldn't want to write a check to, or get mail from, an organization with gay and lesbian in the title. Despite this, the committee felt that it was important for an organization which was all about Pride to have the words lesbian and gay in the title.
Two years after she joined the committee, Vertez became Co-Chair of the organization along with Larry Baza. This was a significant milestone because it was the first time that Pride was headed by two people of color, and San Diego Pride had historically consisted largely of Caucasians despite the large non-white population in the city and county.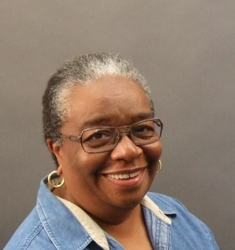 Together, the two oversaw a number of changes in the event, including a change in venue for both the festival and parade. The parade moved from its former location on Fifth and Sixth Avenues to its current location in the heart of Hillcrest. That same year, the festival moved from the Old Naval Hospital parking lot to its current location at Marston Point.
By the time she left Pride, the organization had grown and developed a solid foundation from which it could grow further. After she left the committee she continued to volunteer with Pride in different capacities, and in later years she contributed her expertise in the filming of the official Pride videos.