Friend of Pride – Zachary Schlagel
2017 Spirit of Stonewall Awardees
Every year, San Diego Pride accepts nominations from the community for the annual presentation of the Spirit of Stonewall Awards. The awards recognize individuals or groups who contribute significantly to the LGBT community through their leadership, activism, and fundraising efforts.
Click here for a full list of our awardees.
Spirit of Stonewall Award – Friend of Pride
Awarded to an individual or couple who does not identify as lesbian, gay, bisexual, or transgender, but who has stalwartly supported the LGBT community over an extended period of years and/or has made an exceptional contribution in the past year.
2017 Recipient – Zachary Schlagel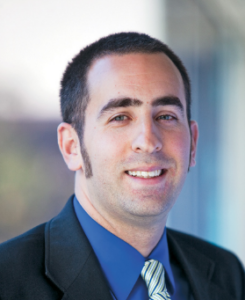 Zachary Schlagel has been a true ally and friend of Pride. As Assistant Director of Government and Community Affairs for UC San Diego Health, he has fully dedicated himself to the LGBT community and to the goal of equality for all.
Through Zach's efforts, UC San Diego Health obtained the vaunted Health Equality Index "Leader" designation from the Human Rights Campaign in 2011 and has continued to do so every year. He personally rewrote UCSD Health's patient bill of rights as well as the visitation and admissions policies to make them more accessible to the LGBT community.
Zach spearheaded the first-ever hospital sponsorship of the San Diego Pride Parade and Festival in 2011. As the Team Captain, he helps brings over a hundred employees—including the UCSD Health CEO—to participate in the Parade. He also ensures that the Festival includes free HIV/AIDS screenings every year at their tent.
In 2015, Zach developed the Pride Lighting Ceremony at UC San Diego Health. The hospital is illuminated for the month of July in rainbow colors, and the annual lighting ceremony is kicked off by LGBT performers, organizations, elected officials, and community leaders. This is the first and only hospital-based lighting in the nation that recognizes LGBT staff, patients, and the community. Zach has also consistently lobbied for further involvement and investment from the hospital in several key LGBT-serving organizations. As a result, the hospital contributes nearly $40K annually to these important groups.
Zach also dedicates time in his private life to the LGBT community. He served on the San Diego Pride Board of Directors from 2013 to 2016, and he and his wife have donated to various LGBT causes. He continuously brings his family, including his two young children, to LGBT events and emphasizes empathy, inclusiveness, and pride to them at all times.