Inspirational Couple – Denice Williams and Dana Toppel
2016 Spirit of Stonewall Awardees
Every year, San Diego Pride accepts nominations from the community for the annual presentation of the Spirit of Stonewall Awards. The awards recognize individuals or groups who contribute significantly to the LGBT community through their leadership, activism, and/or fundraising efforts.
For a full list of our awardees, please click here.
Spirit of Stonewall Award – Inspirational Couple
2016 Recipient: Denice Williams and Dana Toppel
Awarded to a couple whose love and commitment embodies the humanity our community.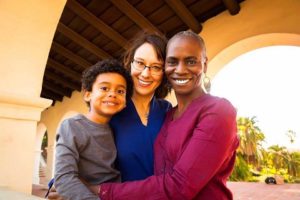 Denice Williams and Dana Toppel share a commitment to do their part to create a world where everyone is happy, healthy, safe and thriving. The couple met 14 years ago while working at the Hillcrest Youth Center, a program of the San Diego LGBT Community Center. Both women (have and continue to) volunteer and work with organizations and initiatives that support the wellbeing of the San Diego community, including LGBT youth, individuals living with HIV and families. Denice serves on the Board of Directors at Christie's Place, an organization that provides comprehensive HIV/AIDS education, support and advocacy to women, children and families impacted by HIV/AIDS and, as an avid cyclist, has completed the AIDS LifeCycle, a 545-mile bike ride from San Francisco to Los Angeles that raises funds to eliminate HIV/AIDS. Dana is the Chief Operating Officer at Jewish Family Service of San Diego, an organization that provides a wide range of vital human services to empower people of all ages and faiths to reach their goals and build better lives. Being the parents of an energetic, beautiful, loving five-year-old is the couple's proudest accomplishment to date.