Community Champion – Fernando "Junior" Buendia
2016 Stonewall Athlete Awards
The Stonewall Athletic Awards support, honor and enhance the San Diego LGBT athletic community by promoting inclusive and healthy competition and activities. Each year, San Diego Pride accepts nominations from the community to recognize individuals and groups in their respective categories.
For a full list of our awardees, please click here.
Stonewall Athlete Award – Community Champion
2016 Recipient – Fernando "Junior" Buendia
This award is given to an individual, group, or business that has significantly contributed to the financial well-being of recreational or competitive athletics within San Diego's LGBT community.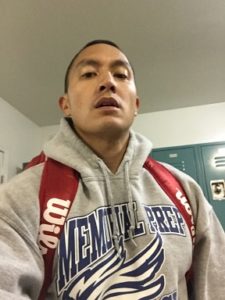 "Junior" first started working with elementary school students in underprivileged neighborhoods for an elective when he was studying biochemistry and playing lacrosse for UCSD. Shortly after graduating, he began playing in recreational leagues such as SDAFFL, SDTF, and SD Hoops.
When he started coaching football with the SDAFFL, he realized that his team really believed in him, so he decided to drag them to do similar projects such as tutoring, school clean-ups, and fundraising at schools that needed help. His team efforts soon became league efforts in helping with collecting backpacks and shoe funds for students in low-income families. He even led a Sports Day at Memorial Prep offering free sports training, and free food was provided for the students and their parents and siblings.
It was in the fall of 2009 Junior realized that the kids simply needed more. Using the community he had created through the SDAFFL, SDTF, and SD Hoops, he began planning an event he called "We Care." This would be a free event which would serve to do many things: raise money for underprivileged students at Memorial Prep in Barrio Logan and for the youth programs at the LGBT Center, and bring in hundreds of toys for the Imperial Court's Toys for Kids Drive. In addition to a raffle which gives 100% of the proceeds back to kids in need, the event has now grown to include SD High Rollers Bowling, SD Armada Rugby, SAGA Ski/Snowboard and Different Strokes Swim Team, among other local groups. Lasting just a couple hours on a Sunday night for the last seven years, the event has attracted up to 800 people at a time and in total has raised just short of $30,000 and collected about 4,500 toys for needy children.
Junior has also created his own position with certain LGBT sports leagues as "Community Outreach" board member and gotten the leagues involved with collections of Easter baskets for kids, AIDS walk, SD Food Bank virtual and physical drives, and, more recently, a 5th grade Essay Contest through his brand SDAFFL Cares.