Philanthropist – Mo's Universe
2016 Stonewall Athlete Awards
The Stonewall Athletic Awards support, honor and enhance the San Diego LGBT athletic community by promoting inclusive and healthy competition and activities. Each year, San Diego Pride accepts nominations from the community to recognize individuals and groups in their respective categories.
For a full list of our awardees, please click here.
Stonewall Athlete Award – Philanthropy
2016 Recipient – Mo's Universe
This award is given to an individual, group, or business that has significantly contributed to the financial well-being of recreational or competitive athletics within San Diego's LGBT community.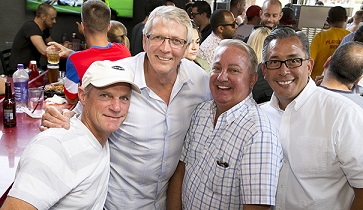 In just the past four years, the company's cash donations to a variety of organizations total $158,348. That figure includes annual, minimum donations of $20,000 to the San Diego LGBT Community Center, which MO's Universe has actually been making for some years.
MO's Universe has also committed to supporting several LGBT sports organizations each year, including America's Finest Softball League, SD Hoops, SDAFFL and, more recently, the Varsity Gay League.
MO's Universe is also dedicated to providing a safe and fun environment for the LGBT community to be themselves while enjoying delicious eats and colorful libations at one of our four locations: Urban MO's, Baja Betty's, Gossip Grill and Hillcrest Brewing Company.