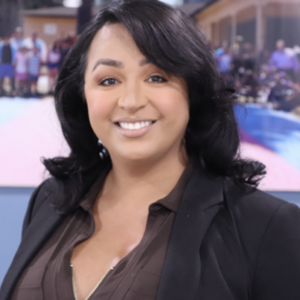 Naya Marie Velazco
Naya Marie Velazco, PSS (she/her) is a transgender latina woman who has lived with HIV for 13 years and navigates the world with major depressive disorder and has utilized her lived experience as a certified peer support specialist to help others. She has 6 years of experience in social services advocating on behalf of socially displaced and vulnerable populations. Naya first began her career in securing healthcare services for homeless veterans and civilians in San Diego, aiding over 1,500 people gaining access to: insurance, primary care, behavioral health services and psychiatry, rehabilitation and drug treatment programs, vision, restorative dental, physical therapy and mobility devices. Naya's objective was to help the folks she served stay goal oriented and focused on their wholistic health, as she simultaneously partnered with other governmental agencies to help secure housing and employment opportunities for them. During this time, she also volunteered at the Monarch School, an educational institution focused on supporting families faced with poverty and homelessness.         
Pivoting to focus efforts in HIV prevention and harm reduction, she became a licensed HIV and HCV test counselor in 2019. Quickly thereafter a research study coordinator for the TG603 PrEP Adherence Study led by the AVRC, a biomedical research project focused on providing trans and gender diverse people with access to free HIV testing, STI screenings and treatment, PrEP medication, and vulnerability assessments. Drawing from lived experience she was able to console folks experiencing devastating hardships who enrolled in the TG603 Study and connect them to viable resources and services to help improve their quality of life; this is when she discovered her life's purpose. During this time, she also volunteered for the syringe exchange program which focused on providing clean syringes to prevent the spread of life-threatening infections and diseases. Harm reduction kits were gifted encouraging folks to test for fentanyl, and interventions such as Narcan were distributed to help prevent overdose.  
Naya's synergetic work ethic captured the eyes of the third largest LGBT Community Center in the nation, and they recruited her to become the new Project TRANS at The Center coordinator in October 2019. Within her very first year and through a global pandemic she was able to increase the programs service visits by 107%, she figured out a formula to scale a program that focused on serving the gender diverse community in San Diego and beyond! Naya identified new pioneers and built a strong volunteer leadership team alongside her; she utilized the tokenism placed upon her to provide platforms and opportunities for other peers. Casting out a wide net, she was able to draw together a variety of stakeholders and community partners focused on improving overall health & equity of trans people: medical advocacy, legal aid, employment, housing, shelter, emergency services, behavioral health, civil rights, civic engagement, and more. Together this army was able to provide seamless WRAP around services through streamlining referrals and prioritizing the consumers' needs with urgency. This cabinet of specialist were also invited to planning committees for major awareness days and initiatives in San Diego, these large-scale events captured the attention of press and media pushing their message on inclusivity, protections, and visibility even further. During this time Naya volunteered for a local food distribution and focused her free time nourishing underserved people during COVID-19. Also volunteering her time to assemble nonperishable foods and hygiene kits for folks in crisis. 
Present time, Naya Marie Velazco (she/her/ella), serves as a Director of Programs at the Transgender Health & Wellness Center. Within 10 months she has been able to help with a variety of initiative which include rebranding and public relations. Expanding the volunteer database by 460% and identify ambassadors for: outreach, front desk admin, fundraising, employment assistance, peer support, advisory boards, education, sanitation, entertainment, and more! Naya has recreated community engagement, public health, and linking vulnerable populations into care with a recurring social event which has served over 3,000 people. The focus is to meet the psychosocial and inclusionary needs of our San Diego constituents. Focused on eliminating barriers and access to public health services by meeting people where they are. Naya, is also very passionate about philanthropy and has been able to capture the hearts and goodness of generous donors and sponsors who are eager to help prioritize TH&WC agency's mission, securing over $60,900 in her first ever 2023 springtime fundraising campaign ""Trans Liberation"". With Naya's former research investigator experience she will help the TH&WC pivot into community based collaborative research projects focused on the inclusion of gender minorities. Her first project with San Diego State University was to create the TH&WC & eSTEP Community Advisory Board, which is an appointed team of 9 trans femmes and women trailblazing HIV prevention and interventions to ensure access to PrEP is comprehensive and seamless through an Electonic mobile app. This year Naya was the lead organizer to take ownership of Transgender Day of Visibility celebrated for the very first time in our trans-history in San Diego County. 30 stakeholders engaged in restorative justice serving over 400 people during this historical event. 
Naya, is presently on the Board of Directors of Casa de Luz– San Diego, a financial arm of the LGBTQ+ safe house for refugees and asylees located in Tijuanna, M.X.                 
Naya will be honored at the Spirit of Stonewall Rally on Friday, July 14, 2023. Learn more about the rally and the other awardees here.