Pride Music Festival Lineup: Phase 1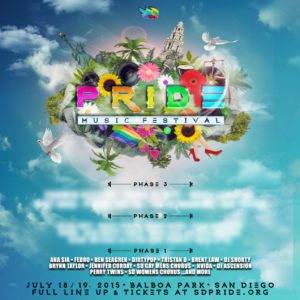 Pride Music Festival today unveiled Phase 1 of its artist lineup for five electronic and live performance stages settled amid the palms of San Diego's Balboa Park this July 18-19.
The blossoming non-profit music festival celebrating diversity and equality brings together 40,000 people over two days from across the nation and the globe for dozens of current electronic dance, pop, hip-hop, Latin and other acts.
"It's a memorable experience to unite with thousands of people, taking pride in who you are and celebrating each other," said executive director Stephen Whitburn. "Pride Music Festival is for all."
Pride Music Festival will reveal Phase 2 of its artist lineup on May 7 and will release Phase 3 on May 14. The festival is produced by San Diego Pride, a 501(c)(3) charitable non-profit. Weekend passes cost just $20 in advance and are available at PrideMusicFestival.org and sdpride.org.
Get your tickets now at www.flavorus.com/PrideMusicFestival!
PHASE 1 ARTIST LINEUP
Ana Sia
Fedro
Ben Seagren
DirtyPop
SD Gay Men's Chorus
NVida
Brent Law
Brynn Taylor
DJ Shorty
Jennifer Corday
Perry Twins
SD Women's Chorus
Tristan D
805 South
Alejandra Sandoval
Aphrodite Rayne
Aro Di Santi Band
Ballet Folklorico Yaqui
Banda Paso De Tecuala
Bellonce Aguilera
Bo Scott
CaliParis
Chocolate City
Christian Falcon
Cris Herrera
Culture Shock
Daisy Salinas
DJ Artistic
DJ Ascension
DJ Cros One
DJ Fariba
DJ Hevrock
DJ Jiji Sweet
DJ Rick Betta
DJ Rubin
DJ Sebastian De La Madrid
DJ Showtime
Erick Diaz
ESCOBAR
Francesca Valle
Jaleesa Johnson
Joahnna
Jorge Ayon
Josh Whitaker
Josh Zuckerman
Jovan Le Saunier
LOS HOLLYWOOD
Maniguis Rossi
Melissa Dove
Monica Fontanoza
OSM
Palm Spring Women's Jazz Band
Phenex
Rainbow Noise
Raul Montiel Y la Banda Paso De Tecuala
Red Sonya
Rhythm and the Method
Ricky Lips
Sabor Andaluz Dance Co.
San Diego Kings Club
Sherryce Emery
Soulistik
Tara Egnatios
We Are She Is
XIV/Sunday Hustle