Pride Music Festival Lineup: Phase 2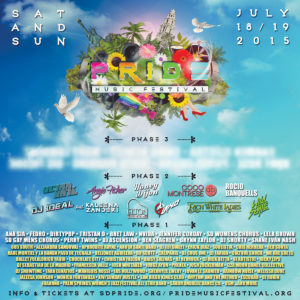 Pride Music Festival today announced Phase 2 of the performer lineup for its five stages in San Diego's famous Balboa Park this July 18-19.
"We're excited by the caliber of current artists who will entertain the 40,000 people coming together to celebrate equality and diversity this summer" -Executive Director Stephen Whitburn
Pride Music Festival will reveal Phase 3 of its artist lineup on May 14. The festival is produced by San Diego Pride, a 501(c)(3) charitable non-profit. Weekend passes cost just $20 in advance. Get your tickets now at
www.flavorus.com/PrideMusicFestival
!
Phase 2 Artist Lineup:
ULTRA NATE - American house and dance-pop musician ANGIE FISHER - Grammy Nominated artist/song-writer debuted at 2015 Grammy's HONEY DIJON - Internationally renowned Transgender DJ & Fashionista COCO MONTRESE - one of Las Vegas' premier divas ROCIO BANQUELLS - Mexican singer & tv/film actress IDEAL feat KALEENA ZANDERS - Top 100 charting DJ/Producer and Supernova Songstress "Kenny Metcalf as Elton John Tribute" - Premier act featuring Kenny Metcalf and The Early Years Band NIKNO - Headlining DJ/Producer/Remixer RICH WHITE LADIES - Hot MOTOWN Records artists on the rise Wild Style - Freestyle-NuStyle-Miami Bass duo
Also, check out the Phase 1 lineup, released last week!!