Pride Music Festival Lineup: Phase 2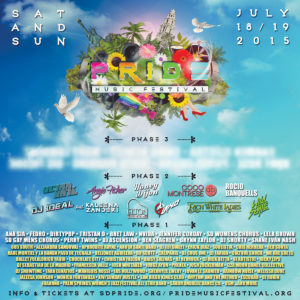 Pride Music Festival today announced Phase 2 of the performer lineup for its five stages in San Diego's famous Balboa Park this July 18-19.
"We're excited by the caliber of current artists who will entertain the 40,000 people coming together to celebrate equality and diversity this summer" –Executive Director Stephen Whitburn
Pride Music Festival will reveal Phase 3 of its artist lineup on May 14. The festival is produced by San Diego Pride, a 501(c)(3) charitable non-profit. Weekend passes cost just $20 in advance.
Get your tickets now at www.flavorus.com/PrideMusicFestival!
Phase 2 Artist Lineup:
ULTRA NATE – American house and dance-pop musician
ANGIE FISHER – Grammy Nominated artist/song-writer debuted at 2015 Grammy's
HONEY DIJON – Internationally renowned Transgender DJ & Fashionista
COCO MONTRESE – one of Las Vegas' premier divas
ROCIO BANQUELLS – Mexican singer & tv/film actress
IDEAL feat KALEENA ZANDERS – Top 100 charting DJ/Producer and Supernova Songstress
"Kenny Metcalf as Elton John Tribute" – Premier act featuring Kenny Metcalf and The Early Years Band
NIKNO – Headlining DJ/Producer/Remixer
RICH WHITE LADIES – Hot MOTOWN Records artists on the rise
Wild Style – Freestyle-NuStyle-Miami Bass duo