Pride To Honor Origins With Spirit of Stonewall Rally in Hillcrest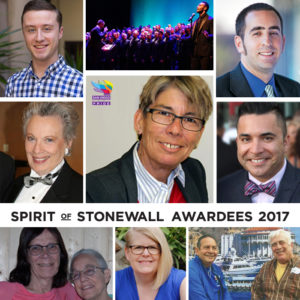 San Diego Pride is proud to announce the 2017 recipients of the Spirit of Stonewall Awards. Pride annually accepts nominations from the community to recognize individuals, organizations, and groups who have contributed significantly to the LGBT community through their leadership, activism, and fundraising efforts. The annual Spirit of Stonewall Rally kicks off Pride weekend by commemorating the Stonewall Riots of 1969, when the LGBT community bravely fought back against discrimination.
The award recipients will be honored at the Spirit of Stonewall Rally on Friday, July 14 at 6:00 PM at The Hillcrest Pride Flag, 1500 University Ave in San Diego. This year the rally is sponsored by the Hillcrest Business Association and the Pride of Hillcrest Block Party will begin immediately after the rally.
"The marginalization of the LGBTQ community, people of color, immigrants, women, religious minorities, seniors, people with disabilities, and other oppressed communities is compounded exponentially at the intersection of these lived experiences," said San Diego Pride Director of Operations, Fernando Lopez. "It is with this in mind that our theme this year is 'Allied in Action: United for Justice.' Our work is not yet done, and we hope that all people will feel welcomed and inspired into action by this year's events."
This year's recipients include:
Champion of Pride – Dr. Delores Jacobs
Community Grand Marshal – Russ Roybal
Community Grand Marshal – Susan Jester
Stonewall Service Award – San Diego Gay Men's Chorus
Inspirational Couple – Meredith Vezina and Ellen Holzman
Inspirational Couple – Ernie Castro and Mike Goupill
Friend of Pride – Kathie Moehlig
Friend of Pride – Zachary Schlagel
Stonewall Philanthropy Award – Harrah's Resort Southern California
Community Service – Josh Coyne
To learn more about each award recipient and their contributions visit www.sdpride.org/2017-awardees
The Rally will also host California State Assemblymember Todd Gloria as the keynote speaker. Other speakers include Chris Ward, Georgette Gómez, Bridget Wilson, Dwayne Crenshaw, and Gloria Cruz. To learn more about the speakers visit www.sdpride.org/2017-stonewall-speakers/.
The National Anthem will be sung by America's Got Talent Season 11 finalist and San Diego native, Brian Justin Crum.
For more information on this event, please visit our website at www.sdpride.org/rally.
Invite your friends on Facebook here.
The Pride Parade begins Saturday, July 15 at 11:00 AM at the Hillcrest Pride Flag. Find more information about the parade at https://sdpride.org/parade/. Attendance is FREE.
The Pride Music Festival is held Saturday, July 15 and and Sunday, July 16 at Marston Pt. in Balboa Park. For more information and tickets visit https://sdpride.org/festival/.
Visit our website at www.sdpride.org.
Follow us on social media!
Twitter: @SanDiegoPride
Instagram: @sandiegopride