We Are Here: Reflections of LGBTQ Lives
On Saturday, March 11th, San Diego LGBT Pride, in partner with Art of Pride and The Trevor Project, hosted their first LGBTQ+ youth art show, We Are Here: Reflections of LGBTQ Lives. This event was hosted by San Diego Pride youth volunteers as an opportunity for young people in our community to share their stories.
Twenty-three pieces were submitted by 21 LGBTQ+ artists from 14 different schools. The purpose of the art show was to create a positive form of expression that would reflect the experiences, stories and emotions of today's LGBTQ+ youth. Some of the narratives included difficulties with coming out, being comfortable in one's own body, transgender issues and the ongoing struggle of expectations and acceptance.
"The beauty of art is that it can give us a glimpse into the raw and authentic reality of these young LGBTQ+ lives," said Fernando Lopez, San Diego Pride's Director of Operations. "The art has been compelling, inspiring, and sometimes even painful to see."
From 6pm to 8pm, more than 100 art lovers, youth supporters, faculty, family, friends and community members visited the art show. The entire event was built by and for LGBTQ+ youth. These young people from Pride's Youth Programs envisioned the event, created their marketing materials, did their own outreach, hosted our guests and even provided the light snacks and refreshments.
"Programs like this art show are really about making a space where our youth can be empowered to realize their own vision. We as Youth Program Coordinators are here to give them the support and guidance they need to be successful." -Alex Villafuerte, San Diego Pride's Marketing and Communications Manager
"The Art Show is an expression of our lives and how our identities affect our experiences," said Edward Estrada, 17-year-old SCPA student and Pride youth volunteer. "We are a culmination of our intersections, bound together by our LGBTQ identities and ready to express ourselves to the greater community."
The following schools were represented this year:
Scripps Ranch High School
Lewis Middle
La Jolla High School
The Bishop's School
Canyon Crest Academy
Valhalla High School
San Diego SCPA
Morse High School
Cathedral Catholic
Steele Canyon High School
Altus Charter School
SET High School
Cajon Valley Middle School
Roosevelt Middle School
Santana High School    
The art exhibit is available for viewing until the middle of May at the San Diego Pride office. For more information regarding San Diego LGBTQ+ Youth Programs, click here.
Here are a few of the many amazing pieces submitted at this year's youth art show.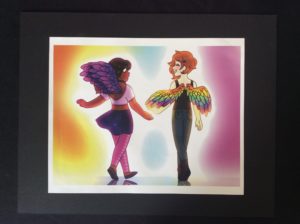 I'm A Lot Like You, Riley Sullivan
Canyon Crest Academy, 9th grade
Sometimes it can feel like you're the only one in the world, but really friends and allies are everywhere if you look, just waiting for you to see them too! Reaching out to each other can be an amazing source of strength and love.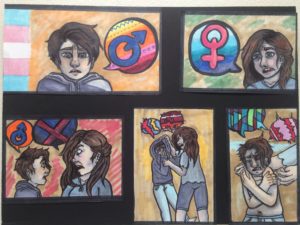 His Name Was, Kyra D'Augusta
Steele Canyon High School, 10th grade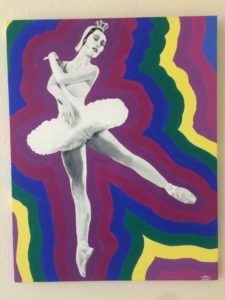 Maria Tallchief, Taté Garcia
Altus Charter School of San Diego, 10th grade
This painting depicts the accomplished Osage ballet dancer Maria Tallchief. Tallchief was a trailblazer for Native Americans in the world of dance and mainstream media. Her talent took her to heights such as principal dancer of New York City Ballet for 13 years, and won her awards such as the Kennedy Center Honors for artistic contribution to the United States, the National Medal of Arts, and an induction to the National Women's Hall of Fame.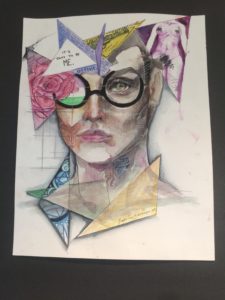 Queer Fear, Kathie Fang
Scripps Ranch High School, 12th grade
A portrait of a non-binary individual with many worrying thoughts exploding within their mind. Whether that be telling their parents or friends about their identity or finding social comfort and acceptance. This piece is in honor of my friend who has attempted suicide for being gender queer.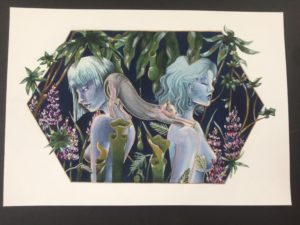 Perennials Endure, and Last Forever, Claire Guang
The Bishop's School, 12th grade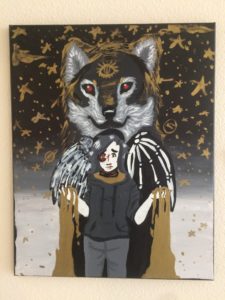 Don't Disappoint, Breeze Stinde
School of Creative and Performing Arts, 10th grade
The piece is meant to represent how I feel: almost out of control with my responsibilities and that I'm constantly worried I'm disappointing my loved ones and that I'm not enough.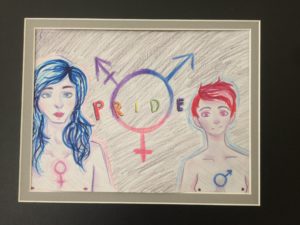 Trans Rights, Leon McCormack
Lewis Middle School, 7th grade
Art to support my trans rights. Gays and lesbians get all the attention, but trans is so much harder for others to accept.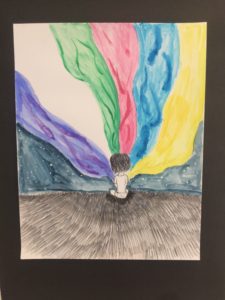 What the Night Brings Out, Mila Corvino
Cathedral Catholic School, 12th grade
It symbolizes what I have gone through, being at Catholic school and coming was very hard at first I felt like I could be myself in certain places and around certain people. I used the night to symbolize secrecy, to represent that I was only comfortable being myself in secret.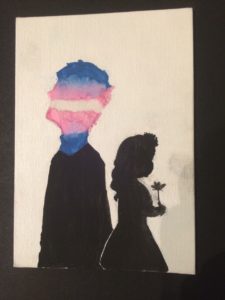 Progression, Sam Palma
Morse High School, 11th grade
This piece represents me and how I have changed throughout the course of seventeen years. It not only shows where I am going, but where I have been as well.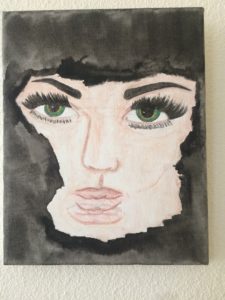 untitled, Zoe Roman
The School for Entrepreneurship and Technology, 12th grade