American Military Partners Association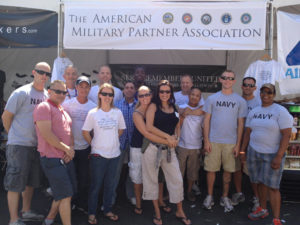 WHAT DOES YOUR ORGANIZATION DO?
Education, advocacy, and support for the partners, spouses, and families of America's LGBT service members and veterans, our "modern military families."
HOW MANY PEOPLE DO YOU SERVE?
20,000+ members and supporters, including a little over 4,000 LGBT military partners/spouses
WHAT ARE YOUR MAJOR ANNUAL ACTIVITIES?
We will have our inaugural AMPA National Gala this May. www.MilitaryPartners.org/Gala-2014
WHEN WAS YOUR ORGANIZATION FOUNDED?
2009 as the "Campaign for Military Partners"
HOW MANY YEARS HAS YOUR ORGANIZATION PARTICIPATED IN SAN DIEGO PRIDE? Four years
IN WHAT WAYS HAS YOUR ORGANIZATION PARTICIPATED IN SAN DIEGO PRIDE?
The Festival and the Pride Parade Military Contingent
WHY IS IT IMPORTANT FOR YOUR ORGANIZATION TO PARTICIPATE IN SAN DIEGO PRIDE?
A large portion of our members are located in the San Diego area.
WHAT VOLUNTEER OPPORTUNITIES DO YOU HAVE AVAILABLE?
Our leadership team is 100% volunteer. In addition to our internship opportunities, we are always looking for volunteers to help with our local events.
HOW ELSE CAN PEOPLE GET INVOLVED WITH YOUR WORK?
Join us at www.MilitaryPartners.org/Join for more info on how to get involved.
CONNECT WITH US:
Website: www.MilitaryPartners.org
Facebook: American Military Partners Association
Twitter: https://twitter.com/LGBTMilPartners
Instagram: http://instagram.com/lgbtmilitaryfamilies
LinkedIn: American Military Partners Association