Stuart E. Schwartz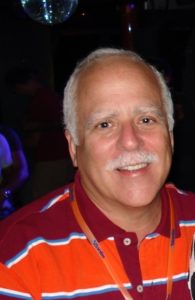 ORGANIZATION(S) YOU VOLUNTEER FOR:
Diversionary Theatre, Old Globe Theatre, La Jolla Playhouse, San Diego Repertory Theatre, Cygnet Theatre, San Diego Zoo, San Diego Art Institute
NUMBER OF YEARS VOLUNTEERING FOR YOUR ORGANIZATION(S):
Two at the Diversionary Theatre; several more years at the other organizations.
HOMETOWN:
Scranton, PA
SINGLE OR TAKEN:
Single
HOW MANY YEARS HAVE YOU BEEN IN SAN DIEGO?
Twelve
WHY DO YOU VOUNTEER FOR YOUR ORGANIZATION(S)?
I really enjoy both theatre and dance so I satisfy those loves by ushering for theaters and by going to as many contemporary dance performances as possible. I enjoy helping people have a positive theatre experience. I also love the San Diego Zoo so helping others enjoy the zoo is another passion of mine.
WHAT IS YOUR FAVORITE VOLUNTEERING MEMORY?
Every time that I see patrons, who are new to the theatre, enjoying themselves I get a thrill. I'm especially happy when we have younger people in the audience as that makes me confident that theatre is alive and well and will be for future generations.
WHAT MOTIVATES YOU TO DO THE WORK YOU DO?
I come back because I enjoy working with theatre and zoo visitors and because it's really nice to be appreciated by the staff and administration. I also have great fun interacting with the guests.
WHAT IS SOMETHING THAT MANY PEOPLE DO NOT KNOW ABOUT YOU?
My part-time job in college was posing for life drawing classes and I never stopped throughout my entire career as a university professor. I still pose for art groups fairly often in San Diego.
WHAT DO YOU LIKE MOST ABOUT THE LOCAL LGBT COMMUNITY?
There are so many varied activities, organizations, clubs, groups, etc.– there's always something to do. I also like that there are several agencies that offer assistance and support to those who are in need.
WHAT WOULD YOU LIKE TO SEE CHANGE IN THE LGBT COMMUNITY?
I was at a recent event and a young man came over to me and, seeing an older guy, he said thank you for all of the efforts 'my generation' made to ensure that younger folks now have an easier time coming out and being themselves. I think that more emphasis is needed so that our LGBT youth learn about our history and what has helped to make their lives a bit easier.
WHAT SORTS OF THINGS DO YOU DO TO ENRICH YOUR SOCIAL LIFE OTHER THAN VOLUNTEERING?
I belong to the Long Yang Club, to a gay book club, I meet friends quite often for dinner or drinks out, I enjoy travel, I take my dog to the park as she is a 'man magnet' and I love to throw dinner parties at my home.
IF YOU COULD HOST A DINNER PARTY AND INVITE THREE PEOPLE (DEAD OR ALIVE), WHO WOULD THEY BE AND WHY?
1. Bette Midler as she was one of the first famous people I knew who embraced the gay community.
2. President Obama as he has taken such bold steps to promote equality for those of us who are LGBT.
3. 'Unknown Name' as I've been single for a few years (after a 20 year relationship) and would love to invite the right guy so that we both go, 'wow.'