Breakthrough Workshop Theatre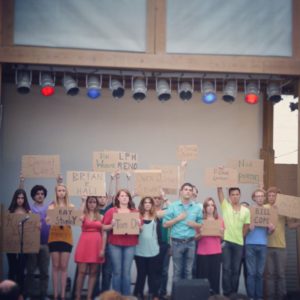 WHAT DOES YOUR ORGANIZATION DO?
We educate, challenge, celebrate and empower artists by providing them unique opportunities in a collaborative, ensemble environment. We are an education-focused theatre company with an emphasis on socially relevant dramatic works pulling from a repertoire of LGBT theatre, family friendly fare, musical theatre, and Pulitzer Prize-winning works. We don't intend to produce time and cost-intensive productions, and instead focus on providing theatre artists of all ages, backgrounds, and experience levels with a chance to explore characters and material they would otherwise be unlikely to encounter. The work of our company always highlights the necessity of breaking through an obstacle, whether it be a personal struggle or a critical movement in society.
HOW MANY PEOPLE DO YOU SERVE?
In our 2014 season we expect to reach around 750 theatre patrons and will work with 50 or more local and national artists. We also have a growing social media following and are always welcoming new faces at facebook.com/breakthroughworkshop.
WHAT ARE YOUR MAJOR ANNUAL ACTIVITIES?
This year we will produce several workshop readings, two full productions, and a musical revue. We were also accepted into the San Diego Fringe Festival for the second year in a row where we are excited to be producing a brand new original work of theatre titled Miss M Saves the Universe! This semi-autobiographical satirical fantasy travels through time as we experience significant breakthrough moments in the life of our protagonist. Along to assist is Miss M, a "divine" guardian angel inspired by the showbiz persona of the legendary Bette Midler. Our star character will be performed in drag by our very own Founding Artistic Director, Ira Bauer-Spector, who played Miss M in The Bette Midler Project last year. Check out our Facebook page to see an album of photos from the show.
WHEN WAS YOUR ORGANIZATION FOUNDED?
We launched Breakthrough Workshop Theatre in the fall of 2012 out of our tiny studio apartment in University Heights. We're pretty sure whoever lives there now is still vacuuming up glitter and sequence from our production of The Bette Midler Project.
HOW MANY YEARS HAS YOUR ORGANIZATION PARTICIPATED IN SAN DIEGO PRIDE?
This is our first year participating in San Diego Pride as an organization, and we're thrilled to be a part of this incredible celebration and movement.
WHY IS IT IMPORTANT FOR YOUR ORGANIZATION TO PARTICIPATE IN SAN DIEGO PRIDE?
Our organization is very connected to the mission and purpose of San Diego Pride. The Reflections of Pride theme this year is especially important to us because, for the third time, we'll be producing local playwright Patricia Loughrey's beautifully constructed documentary-style play titled Dear Harvey. The show recounts the life and lasting impact of groundbreaking LGBT activist and politician Harvey Milk, as told by the people who knew him best, and reaffirms his impact and the continued relevance of his campaign towards equality, more than three decades after his assassination.
WHAT VOLUNTEER OPPORTUNITIES DO YOU HAVE AVAILABLE?
We're always looking for artists to "breakthrough" with us, and sometimes even have opportunities for designers, stage crew, and developing artists looking for fellowships and experience. Check out our website for contact information.
HOW ELSE CAN PEOPLE GET INVOLVED WITH YOUR WORK?
If you're not interested in being on stage or behind the scenes, join us as an audience member at one of our productions. Our tickets are always very reasonably priced and we welcome everyone regardless of your background or theatre experience. Come "breakthrough" with us!
CONNECT WITH US:
Website: breakthroughworkshop.org
Facebook: facebook.com/breakthroughworkshop
Instagram: @breakthroughworkshop