Family Health Centers of San Diego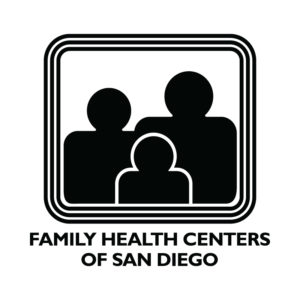 WHAT DOES YOUR ORGANIZATION DO?
Family Health Centers of San Diego is a private, non-profit community health center organization. Our mission is to provide caring, affordable, high quality healthcare and supportive services to everyone, with a special commitment to uninsured, low income and medically underserved persons. We accomplish this through 35 sites, including 17 primary clinics located throughout San Diego. We offer an extensive array of primary and specialty care services including: Adult Medicine, Chronic Disease Care, Dentistry, Drug & Alcohol Treatment, Health Education, Mental Health, Obstetrics/Gynecology, and Pediatrics. Family Health Centers of San Diego is also the largest provider of HIV/AIDS outreach, prevention, testing, and treatment services in San Diego. Visit us at www.fhcsd.org to learn more.
HOW MANY PEOPLE DO YOU SERVE?
Annually, we provide care to over 170,000 patients through 677,000 visits.
WHAT ARE YOU MAJOR ANNUAL ACTIVITIES?
Since 1986, Family Health Centers of San Diego has hosted the "Spirit of the Barrio" luncheon, featuring our famous tamales, to increase awareness about Family Health Centers of San Diego and its vital role in the community. In addition, the event raises critical funding for Family Health Centers of San Diego's programs and services by bringing together local businesses, individuals and community leaders for networking, education, entertainment and community building. The "Spirit of the Barrio" is held in the Logan Heights neighborhood where our first clinic was founded almost four decades ago. Approximately 500 supporters, including prominent corporate, political, and community leaders, attend the event. For more information, visit https://www.fhcsd.org/news/spirit.cfm.
WHEN WAS YOUR ORGANIZATION FOUNDED?
Family Health Center of San Diego's story started in 1970. Laura Rodriguez and a group of community activists wanted to bring necessary medical services to the Barrio Logan neighborhood. They staged a sit-in at 1809 National Avenue and, after eight days of occupation, the building owners and civic leaders decided to gift the building to the Barrio Logan community for the establishment of the Chicano Free Clinic. Medical care delivery began two evenings a week and the clinic saw approximately 150 patients per month. It was from this humble foundation that Family Health Centers of San Diego began!
HOW MANY YEARS HAS YOUR ORGANIZATION PARTICIPATED IN SAN DIEGO PRIDE?
Family Health Centers of San Diego is proud to have participated in San Diego Pride for the last 13 years.
IN WHAT WAYS HAS YOUR ORGANIZATION PARTICIPATED IN SAN DIEGO PRIDE?
Family Health Centers of San Diego is committed to providing care and services to the Lesbian, Gay, Bisexual and Transgender (LGBT) community and we are proud to embody the spirit of San Diego Pride. During the parade, healthcare outreach teams provide information on how to utilize our services, while groups like "In The Mix" and "Empower", which educate gay men about safe sex practices, design glittering Pride floats. Our health departments, such as Gay Men's Health Services and Minority AIDS Initiative Integrated Services, also host festival booths, providing important educational materials to the community.
WHY IS IT IMPORTANT FOR YOUR ORGANIZATION TO PARTICIPATE IN SAN DIEGO PRIDE?
Participating in the pride parade and festival is one of the ways we show our connection to the LGBT community and its well-being. We believe taking pride in your health is more than going to the doctor when you're sick, it's about setting up the foundations of responsibility, education and overall value of individual wellness throughout the year. Pride is a great opportunity to educate the community about our services and the importance of health and wellness. FHCSD was one of the first corporations in California to insist insurance carriers that underwrite our employee policies include domestic partners.
WHAT VOLUNTEER OPPORTUNITIES DO YOU HAVE AVAILABLE?
Family Health Centers of San Diego relies on the community's support to continue our mission of providing caring, affordable, quality healthcare to all individuals. We have a number of opportunities open for community members to participate in. For information, please contact Jamie Willeford at 619-515-2562 or [email protected]
HOW ELSE CAN PEOPLE GET INVOLVED WITH YOUR WORK?
We accept in-kind, monetary and vehicle donations. Consider donating to our recently expanded Baby Boutique program, which provides essential items for over 3,500 moms and newborn babies each year and is in need new and gently used baby clothes and toys. Diapers are also accepted. Donations can be dropped off Monday through Friday 9am to 5pm at 1827 Logan Ave, Suite 2, San Diego, CA 92113. Additionally, we collect children's books in English and Spanish for our pediatric waiting rooms. To arrange a book donation, please call (619) 515-2562. We also accept monetary and vehicle donations. For additional information, please visit https://www.fhcsd.org/how-to-help.cfm.
CONNECT WITH US:
Website: www.fhcsd.org
Facebook: facebook.com/FHCSD
Twitter: twitter.com/FamilyHealthSD
LinkedIn: linkedin.com/company/family-health-centers-of-san-diego