Fraternity House Inc.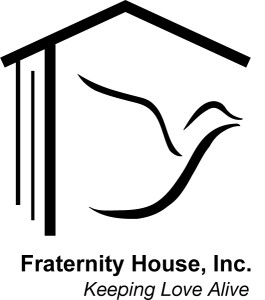 WHAT DOES YOUR ORGANIZATION DO?

Fraternity House, Inc. operates the only two licensed homes in the county that are dedicated to serving men and women with HIV/AIDS. We offer 24-hour personal care from certified nursing assistants, meals, assistance with adherence to complex medication regimens, laundry, organized activities, transportation to doctor's appointments, and linkage with other important services in our community. Our mission is to provide warm and caring homes where men and women disabled by HIV/AIDS can receive comprehensive care and services in order to rebuild their health and return to independent living, or where they can spend their last days in comfort and dignity.
HOW MANY PEOPLE DO YOU SERVE?

Fraternity House in Escondido has 8 beds for men and the Michaelle House in Vista has 12 beds for women and men. Each year we help approximately 30 individuals from throughout San Diego County. And yes, we do serve the transgender community!
WHAT ARE YOUR MAJOR ANNUAL ACTIVITIES?

We have an annual holiday open house at Fraternity House in December; it's a great time to chat with friends and residents. We also have an open house coming up at the end of March at Michaelle House. In the summer we have our biggest fundraiser, Sharing by Moonlight, at the Moonlight Amphitheatre in Vista.
WHEN WAS YOUR ORGANIZATION FOUNDED?

Fraternity House, Inc. has been providing services in San Diego County for more than 25 years, since the mid-80's when people with AIDS were shunned and had nowhere else to go. We were formally incorporated as a non-profit in 1988.
HOW MANY YEARS HAS YOUR ORGANIZATION PARTICIPATED IN SAN DIEGO PRIDE?

Fraternity House and Michaelle House residents have always participated in Pride, whether it's the parade or the festival.
IN WHAT WAYS HAS YOUR ORGANIZATION PARTICIPATED IN SAN DIEGO PRIDE?

As a very small organization, we usually participate by collaborating with other groups here in North County, such as Pilgrim Church or the North County LGBTQ Center. For a few years we had a wheelchair lift van that we decorated and entered in the parade; the Executive Director even led the way with her Harley!
WHY IS IT IMPORTANT FOR YOUR ORGANIZATION TO PARTICIPATE IN SAN DIEGO PRIDE?

We feel it is important to send a message that love, laughter and fun are the things that make life enjoyable on a daily basis. Pride is a great way to do that. Although Fraternity House, Inc. does not discriminate when someone needs our help, a huge proportion of our residents over the years have self-identified as LGBTQ. So do many staff and volunteers. Our motto is Keeping Love Alive and Pride is a perfect way for our family to support and celebrate one another.
WHAT VOLUNTEER OPPORTUNITIES DO YOU HAVE AVAILABLE?

Volunteers at Fraternity House and Michaelle House serve a variety of functions. You can cook a meal, tend a garden, clean a room, paint a wall, drive to a doctor's appointment, help on an outing, file paperwork … whatever your talent and interests are, we can find a place for you.
HOW ELSE CAN PEOPLE GET INVOLVED WITH YOUR WORK?

If you don't have the time or ability to come to North County, please "like" us on Facebook and check out our website. We serve people from throughout the county and it is important to let the community know about our services.
CONNECT WITH US:
http://www.fraternityhouse-inc.org
https://www.facebook.com/FraternityHouseInc