Ira Bauer-Spector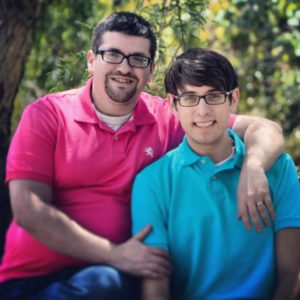 ORGANIZATION(S) YOU VOLUNTEER FOR:
Breakthrough Workshop Theatre
NUMBER OF YEARS VOLUNTEERING FOR YOUR ORGANIZATION(S)
Since October 2012
BRIEF BIO
I'm from Aurora, Colorado and married to my husband Nathan. I moved to San Diego in August 2008 to pursue an MFA in Musical Theatre (Directing) from San Diego State University.
WHY DO YOU VOLUNTEER FOR YOUR ORGANIZATION(S)?
I have been involved with a variety of theatre companies around town and around the country (youth, university, community, regional and professional), but BWT provides unique opportunities that simply aren't available through other organizations. We allow artists of all ages and experience levels to work together on theatre without the pressures and time commitment of being involved in more traditional projects. We also have a unique demographic due to our programming and the wide variety of artists we attract to participate in our work. In mid-April, we will be producing two shows in repertory, the family-friendly classic musical You're a Good Man, Charlie Brown alongside the very mature and powerful play with LGBT themes, Dog Sees God: Confessions of a Teenage Blockhead. I can't think of any other company in town whose mission would support producing both of these shows together.
WHAT IS YOUR FAVORITE VOLUNTEERING MEMORY?
One of my favorite BWT memories would be the World Premiere of The Bette Midler Project in March 2013. I have idolized the legendary Bette Midler my entire life and after finding the play Bette and Me by Pulitzer Prize-winning playwright Wendy Wasserstein, I penned a short companion piece entitled Bette and I and together, the two pieces became The Bette Midler Project. In addition to writing and directing, I starred as "The Divine" herself in drag, and was so inspired by the piece that I have reworked Bette and I into a full-length brand new play called Miss M Saves the Universe! That piece will have its World Premiere at the 2nd Annual San Diego Fringe Festival in July, 2014.
WHAT MOTIVATES YOU TO DO THE WORK YOU DO?
We are changing perspectives for our artists and our audiences. We are exposing people to unique stories told in interesting ways and giving artists an outlet to pursue what they love in a collaborative and inspirational environment.
WHAT IS SOMETHING THAT MANY PEOPLE DO NOT KNOW ABOUT YOU?
In addition to directing/writing/performing with BWT, I also create all of the graphics and videos. I even designed and created our website breakthroughworkshop.org.
WHAT DO YOU LIKE MOST ABOUT THE LOCAL LGBT COMMUNITY?
Some of the most inspiring things about our local LGBT community are how active we are in politics and the arts. BWT's signature theatre piece is Patricia Loughrey's Dear Harvey, a play we presented, and won an award for, at the 1st San Diego Fringe Festival last year. The piece explores Harvey's message of being open to those around you and remaining active in the community, and more than three decades after his assassination we can see his legacy playing out all throughout the San Diego area. Our amazing City Council President Todd Gloria, Assembly Member Toni Atkins, community leader Nicole Murray-Ramirez, Diversionary Theatre, Harvey Milk's American Diner and of course San Diego Pride are all highlights of our strong LGBT community. We are incredibly proud to be a part of it.
WHAT WOULD YOU LIKE TO SEE CHANGE IN THE LGBT COMMUNITY?
We are making so many strides in our community both locally and nationally, and I suspect national marriage equality will be a reality for us in a short number of years. That being said, we can't take our progress for granted and become apathetic. We must remain diligent and continue to work for a more loving and accepting world. I would like to see more emphasis placed on family, the trans community, and those valued members of our community who are growing older. Also, it is imperative that we as a community stay educated and take action regarding the horrible situations facing members of the international LGBT community in places such as Uganda and Russia.
WHAT SORTS OF THINGS DO YOU DO TO ENRICH YOUR SOCIAL LIFE OTHER THAN VOLUNTEERING?
In addition to my work with BWT, I also have directed numerous productions at San Diego Junior Theatre in Balboa Park and I absolutely love working with children. I enjoy Thai food, trips to New York City, and our two cats, Max and Maebelle.
IF YOU COULD HOST A DINNER PARTY AND INVITE THREE PEOPLE (DEAD OR ALIVE), WHO WOULD THEY BE AND WHY?
Bette Midler, Hillary Clinton & Jonathan Larson – these three individuals have inspired me greatly over the years through their work and the contributions they have made to society and the LGBT community. I would not be who I am today without these three. Plus, what a fabulous dinner party it would be!
CONNECT WITH US:
Website: breakthroughworkshop.org
Facebook: facebook.com/breakthroughworkshop
Instagram: @breakthroughworkshop