Jonathan and Dwayne D. Beebe-Franqui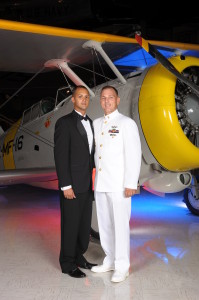 Jonathan and Dwayne D. Beebe-Franqui were engaged at the 2012 San Diego Pride Parade when Dwayne, a Senior Chief Petty Officer in the US Navy at the time, in full dress whites, dropped to one knee and proposed to Jonathan while walking as participants of the historic Military Contingent. The parade briefly stopped, the cheering was loud, but for these two lovebirds, only the love for each other could be heard.
Upon realizing that the group of US Navy Sailors had come to a complete halt, Dwayne arose and spontaneously exclaimed "Forward March," with one fist in the air. Jonathan and Dwayne have since became role models for marriage equality and LGBT service members. "Forward March" has become their household motto.
In 2013, Jonathan organized several rallies in the wake of the Supreme Court hearings and Dwayne organized the first military Pride observance at Navy Personnel Command, the first of its kind outside the Pentagon. Dwayne is actively organizing the first military-wide Pride celebration, with over 30 commands participating in 2014. The couple was featured in a Department of Defense (DoD) video released by the Pentagon when spousal benefits were granted to LGBT service members in September 2013.
Amazingly, after much publicity of their union, on May 1st 2014, Dwayne was selected for advancement to Master Chief Petty Officer, the highest rank attainable in the US military. Dwayne, a long-time resident of San Diego, met Jonathan while stationed in Pensacola, Florida and now the couple resides in military base housing near Memphis, Tennessee. The couple are active members of American Military Partners Association (AMPA) and Jonathan has quickly become involved in the Tennessee Equality Project(TEP). They have two kids, Brian and Courtney.