PFLAG (Parents, Families and Friends of Lesbians and Gays)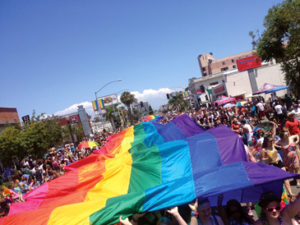 WHAT DOES YOUR ORGANIZATION DO?
We are allies who support and advocate for the LGBT community. One of our biggest components is to educate the general public.
HOW MANY PEOPLE DO YOU SERVE?
Hopefully, all of San Diego.
WHAT ARE YOUR MAJOR ANNUAL ACTIVITIES?
Participate in the Pride Parade and Festival, South Bay Pride Festival (booth), AIDS Walk, Dining out for Life, award scholarships, attend annual community events (Harvey Milk Diversity Breakfast, Frida Kahlo Birthday, etc.) and applying for and hopefully receiving a grant from PRIDE!
WHEN WAS YOUR ORGANIZATION FOUNDED?
Nationally, 1972 – San Diego, 1983
HOW MANY YEARS HAS YOUR ORGANIZATION PARTICIPATED IN SAN DIEGO PRIDE?
At least 24 years
IN WHAT WAYS HAS YOUR ORGANIZATION PARTICIPATED IN SAN DIEGO PRIDE?
Parade, Festival, Out at the Park and this year Out at the Fair.
WHY IS IT IMPORTANT FOR YOUR ORGANIZATION TO PARTICIPATE IN SAN DIEGO PRIDE?
San Diego Pride gives us another avenue to reach the LGBT community. It is also a way of showing respect that we have for SD Pride.
WHAT VOLUNTEER OPPORTUNITIES DO YOU HAVE AVAILABLE?
Serving on our board, working on various committees (Scholarship, Speakers Bureau, Outreach, Procurement), participation at booths at various functions, head ad hoc committees, Regional Coordinator/Reps.
HOW ELSE CAN PEOPLE GET INVOLVED WITH YOUR WORK? See above!
CONNECT WITH US:
Website: www.pflag.com
Facebook: PFLAG San Diego County
Twitter: @pflagSD