Let Me Introduce You To…
Ruben Lopez, Volunteer Hospitality Coordinator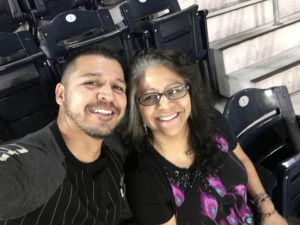 He / Him / His
"During Pride weekend, I am your best friend. If you volunteer with Pride, you will love me."
What does the Volunteer Hospitality Coordinator do?
My job is to feed the 900-plus volunteers at Pride. As the Volunteer Hospitality Coordinator, I work hand-in-hand with the In-kind Sponsor Volunteer, Tamira Benitez, to get the best food, snacks, treats, candy, fruit, and meals possible for Pride's amazing volunteers.
We start in March reaching out to last year's in-kind sponsors to see if they will donate again. In April, we start reaching out to new in-kind sponsors asking them to come on board and provide donations for the volunteer village.
An in-kind sponsor may donate pizza, burritos, chicken wings, submarine sandwiches and wraps as well as fruit and snacks. Sometimes, they donate gift cards so we can buy bagels, cream cheese, and Nutella along with Red Vines licorice.
We plan out a menu for Pride week / weekend, and my goal is to keep the volunteers well fed and happy.
This is Ruben's third year volunteering with San Diego Pride. In 2015, the year of the rain, Ruben worked in the Entertainment Department as the Assistant EDM Stage Manager. Last year, 2016, Ruben was the Volunteer Village Hospitality Supervisor and returns this year as the Volunteer Hospitality Coordinator.
Why do you volunteer with San Diego LGBT Pride?
I've met so many people because of volunteering with Pride. I moved back to San Diego about five years ago, and getting involved with Pride has opened a lot of doors for me. I am the Director of Events for Clark Realty Management Company, a division of Clark Construction, one of the largest construction companies in the U. S. I oversee all events at the Navy's Pacific Beacon Towers and Palmer Hall, an approximately 2300 square feet, on-base, residential rental unit on board the U. S. Naval Station San Diego. Pride has given me the confidence to be out on the job around people in construction and people in the military. I appreciate that I don't have to hide who I am and with whom I volunteer.
What are you reading right now?
The Shredded Chef, 120 Recipes for Building Muscle, Getting Lean, and Staying Healthy
by Michael Matthews. If you want to build a body you can be proud of without starving or depriving yourself of all the foods you like, then you want to read this book.
What's the last movie you saw (DVD or in the theatre)?
Deadpool. It was stupid, funny, comical and a little gory, and it had that hot guy Ryan Reynolds in it.
Coffee or tea?
Coffee. Black coffee with a splash of milk.
What are you listening to on Spotify?
EDM, Soul and Dance. I like Diplo, Daft Punk, DJ Snake, Zedd ,and Afrojack.
What should people know about you?
I love to cook and I have a small business on the side doing meal preps and cooking. I prepare healthy, nutritious, great tasting meals for clients. I cook weekly dinner packages as well as weekly lunch packages. My meals are deliciously prepared with love and include vegetables, carbohydrates, proteins, and snacks.
When you aren't volunteering with Pride, where might you be found?
At a local farmer's market buying fresh organic items to cook, in my kitchen cooking, or out dancing. I love to dance around the kitchen also.
What advice do you have for someone coming to Pride?
Make this year the year you volunteer with Pride. Give it a shot—you'll meet great people, probably make a few good friends, and maybe even find Mr. / Mrs. Right. You'll be doing your LGBT Community a solid by helping San Diego Pride – which has given back almost $2 million dollars to the community since 2000. Plus, volunteer for one 5-hour shift and you get into the 2-day music festival for free.
What are you looking forward to for Pride 2017?
It's been said before, but it's true, I look forward to helping out, being of service. I get to see old friends and making new friends and I love the look on the volunteer's face when they see what Tamira and I have been able to prepare for them in Volunteer Village. Remember, just like a soldier, a well fed volunteer is a happy volunteer.
---
Be Part of the Pride Family!

If you're interested in volunteering with San Diego Pride, we'd love to have you! Please follow the link below to learn more about how you can be involved in your community!