Sherry Cohen-Richards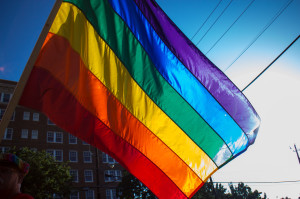 ORGANIZATION(S) YOU VOLUNTEER FOR: PFLAG (Parents, Families and Friends of Lesbians and Gays)
NUMBER OF YEARS VOLUNTEERING FOR YOUR ORGANIZATION(S): 13
HOMETOWN: Philadelphia
SINGLE OR TAKEN: taken
HOW MANY YEARS HAVE YOU BEEN IN SAN DIEGO? 40 years
WHY DO YOU VOLUNTEER FOR YOUR ORGANIZATION(S)? To advocate for and support the LGBT community and to educate the public on LGBT rights and equality.
WHAT IS YOUR FAVORITE VOLUNTEERING MEMORY? I volunteered at CESCaLand met George Takei. At the same function, I not only met Betty DeGeneres, but spoke with her for a while.
WHAT MOTIVATES YOU TO DO THE WORK YOU DO? I have always had a sense of fairness. I will be motivated until there is total acceptance at all levels.
WHAT IS SOMETHING THAT MANY PEOPLE DO NOT KNOW ABOUT YOU?  I love to Israeli dance.
WHAT DO YOU LIKE MOST ABOUT THE LOCAL LGBT COMMUNITY? The camaraderie of working for the same goal.
WHAT WOULD YOU LIKE TO SEE CHANGE IN THE LGBT COMMUNITY? Less splinter LGBT groups – you can do more with less. Everyone is vying for the same people, donors, etc.
WHAT SORTS OF THINGS DO YOU DO TO ENRICH YOUR SOCIAL LIFE OTHER THAN VOLUNTEERING? Spend time with my grandkids and getting together with my PFLAG ladies group.
IF YOU COULD HOST A DINNER PARTY AND INVITE THREE PEOPLE (DEAD OR ALIVE), WHO WOULD THEY BE AND WHY?  My mother because I miss her and still need her, my sister because she lives on the East Coast and I don't get to see her often enough, my Aunt Lil because we were close and she died when I was 12 years old.
CONNECT WITH US:
Website: www.pflag.com
Facebook: PFLAG San Diego County
Twitter: @pflagSD