Stonewall Citizens Patrol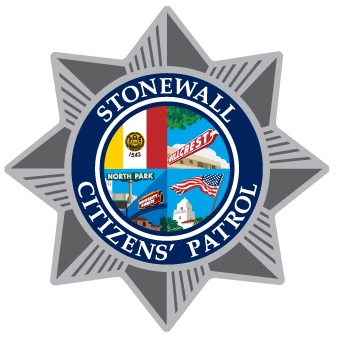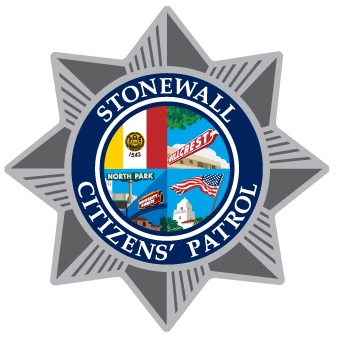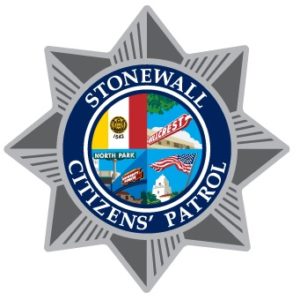 WHAT DOES YOUR ORGANIZATION DO?
The Stonewall Citizens' Patrol is a volunteer neighborhood watch patrol group operating in the highly diverse Hillcrest, North Park and University Heights areas of San Diego. Our volunteers receive training from the San Diego Police Department and take turns patrolling the streets.
In addition to patrolling, the organization focuses on crime awareness and crime prevention which includes distributing safety whistles, crime prevention posters, and safety tip cards.
Our volunteers conduct themselves with a "hands-off" approach and do not carry weapons. We are merely additional "eyes and ears" for the San Diego Police Department.
HOW MANY PEOPLE DO YOU SERVE?
We serve all citizens of Hillcrest, University Heights, and North Park.
WHAT ARE YOUR MAJOR ANNUAL ACTIVITIES?
Assisting with the SD Pride Festival, Nightmare on Normal Street, assisting, security with the GLSEN event at the Center, volunteering with the US Police and Fire Championships, providing safety coverage for the Transgender Day of Remembrance and the San Diego Remembers Matthew Shepard Event.
WHEN WAS YOUR ORGANIZATION FOUNDED?
October 2006
HOW MANY YEARS HAS YOUR ORGANIZATION PARTICIPATED IN SAN DIEGO PRIDE?
6 years
IN WHAT WAYS HAS YOUR ORGANIZATION PARTICIPATED IN SAN DIEGO PRIDE?
We have assisted safety.
WHY IS IT IMPORTANT FOR YOUR ORGANIZATION TO PARTICIPATE IN SAN DIEGO PRIDE?
As a non-profit organization, Stonewall Citizens' Patrol understands the need for community involvement. Working with Pride not only allows us to serve our community, but also gives us the opportunity to partner with Pride in order to realize the mission of both organizations.
WHAT VOLUNTEER OPPORTUNITIES DO YOU HAVE AVAILABLE?
Patrol Volunteers, Administrative Volunteers, Volunteer Security Work
HOW ELSE CAN PEOPLE GET INVOLVED WITH YOUR WORK?
Supporting us financially is very important due to ongoing costs associated with maintaining our vehicle, which is the heart of our organization. Check out our website and apply to be a volunteer! We are always looking for passionate individuals looking for ways to help protect the community. Send us an email with any ideas you may have that could further our mission.
CONNECT WITH US:
Website: www.stonewallcitizens.org
Facebook: www.facebook.com/StonewallCitizensPatrol
Twitter: @SCPSD