Mama's Kitchen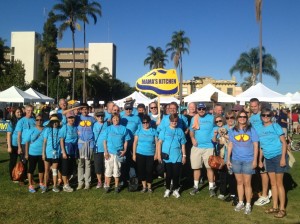 WHAT DOES YOUR ORGANIZATION DO?
As a volunteer-driven, nonprofit organization, Mama's Kitchen prepares and delivers food free of charge to men, women and children who are affected by AIDS or cancer. We also run Mama's Pantry, a monthly shopping opportunity for low-income HIV/AIDS individuals who do not need meal deliveries, but can benefit from occasional nutrition support to maintain their health and stretch their food budget.
HOW MANY PEOPLE DO YOU SERVE?
In 2013, we served 1,384 Clients.
WHAT ARE YOU MAJOR ANNUAL ACTIVITIES?
Our annual fundraisers include Mama's Day, a restaurant tasting event held annually the Friday before Mother's Day; Pie in the Sky, a Thanksgiving Pie bake sale during October and November; Annual Wine Tasting at Bourbon Street, an evening of wine, food and fun; and Tree of Life, commemorating World AIDS Day on December 1st with a candlelight vigil and tree lighting ceremony.
WHEN WAS YOUR ORGANIZATION FOUNDED? 1990
HOW MANY YEARS HAS YOUR ORGANIZATION PARTICIPATED IN SAN DIEGO PRIDE?
Approximately 25 years.
IN WHAT WAYS HAS YOUR ORGANIZATION PARTICIPATED IN SAN DIEGO PRIDE?
Mama's Kitchen has a float in the Pride Parade every year, and has had a booth in past years.
WHY IS IT IMPORTANT FOR YOUR ORGANIZATION TO PARTICIPATE IN SAN DIEGO PRIDE?
Mama's Kitchen is an all-inclusive family. We foster a welcoming environment and embrace all members of the community without judgment. Mama's Kitchen envisions a community where mutual respect and dignity are preserved by promoting humanity, compassion and empathy towards others.
WHAT VOLUNTEER OPPORTUNITIES DO YOU HAVE AVAILABLE?
Our volunteer opportunities include delivering meals, preparing meals, packing grocery bags, answering phones, assisting our Pantry clients with their shopping, operating food drives at local supermarkets, serving on committees, and assisting during special events. Our greatest need is for delivery volunteers, especially in North County.
HOW ELSE CAN PEOPLE GET INVOLVED WITH YOUR WORK?
We encourage folks to host food drives to collect nonperishable food for our Pantry or to host "pick up" events, where they raise money and donate it to Mama's Kitchen.
CONNECT WITH US:
Website: www.mamaskitchen.org
Facebook: Mama's Kitchen
Twitter: mamaskitchensd