San Diego Pride Gives Over $100,000 to LGBT Serving Nonprofits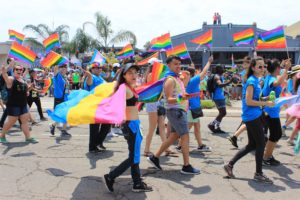 San Diego LGBT Pride is pleased to announce that due to the success of this year's Pride event, we are able to donate $104,182 of our proceeds back to 51 LGBT-serving organizations.
Each year Pride works to return proceeds from our annual Pride weekend to the LGBTQ community. Over the years, San Diego Pride's community contributions have well exceeded 2 million dollars, which have been distributed to dozens of organizations through Pride Community Grants, sponsorships, and event support.
The 2017 Pride grants help fund LGBT youth programs, sobriety services, LGBTQ arts and culture, communities of color, programs that support our transgender community, LGBTQ health and human services, and many more vital resources that our LGBT community relies on and enjoys.
One Pride beneficiary, The San Diego LGBT Community Center, has been gifted $13,150 in total in 2017, including $5,150.00 gifted during their 2 Million 4:1 matching campaign, which turns in to $25,750 thanks to their generous donors, and brings the total impact of Pride gifts to The Center to $33,750!
"Our board, volunteers, sponsors, community partners, and ticket buyers can be proud that the support they've given San Diego Pride is now helping to serve our local LGBTQ community and beyond." said Executive Director, Eric Heinritz.
List of Grant Recipients:
Bakersfield LGTBTQ, Being Alive San Diego, Binational LGBTQ Task Force, Blindspot Collective, Breakthrough Workshop Theatre, Center for Community Counseling and Engagement, DETOUR, Diversionary Theatre, Elevate Revolutionary Art, Family Health Centers of San Diego, Fraternity House, Free to Thrive, GLSEN San Diego, Greater San Diego Business Association, Imperial Valley LGBT Resource Center, Lambda Archives of San Diego, LGBT & Allies Employee Resource Group, Live Let Live Alano Club, Mama's Kitchen, Media Arts Center San Diego, Media Heritage Inc., dba FilmOut San Diego, Mental Health America of San Diego County, Mercy Housing, North County LGBTQ Resource Center, PFLAG San Diego County, POZabilities, Recovery Ride, Regional Task Force on the Homeless, San Diego Black LGBTQ Coalition, San Diego Gay Men's Chorus, San Diego LGBT Community Center, Sobriety On the Sand, San Diego LGBT Visitors Center, San Diego Unified Council of PTAs, San Diego Unified School District FACE Department, San Diego Unified School District, SEED, South Bay Alliance Association Inc, Special Delivery San Diego, Stepping Stone of San Diego, Inc, Stonewall Citizens Patrol, Strength for the Journey San Diego, The Neutral Corner Inc., The T-Spot, TransFamily Support Services, Transgender Day of Empowerment, University of San Diego Pride, Voices for Children, Wayword, Inc., and Y.E.S. San Diego
See the other ways San Diego Pride has made an impact in our community this year by reading our top 17 of 2017 here. Tickets are now on sale for next year's Pride Festival on July 14 to July 15, 2018.
Founded in 1974, San Diego LGBT Pride is a 501(c)3 nonprofit organization whose mission is: Fostering pride in and respect for all lesbian, gay, bisexual, and transgender communities, locally, nationally, and globally. www.sdpride.org